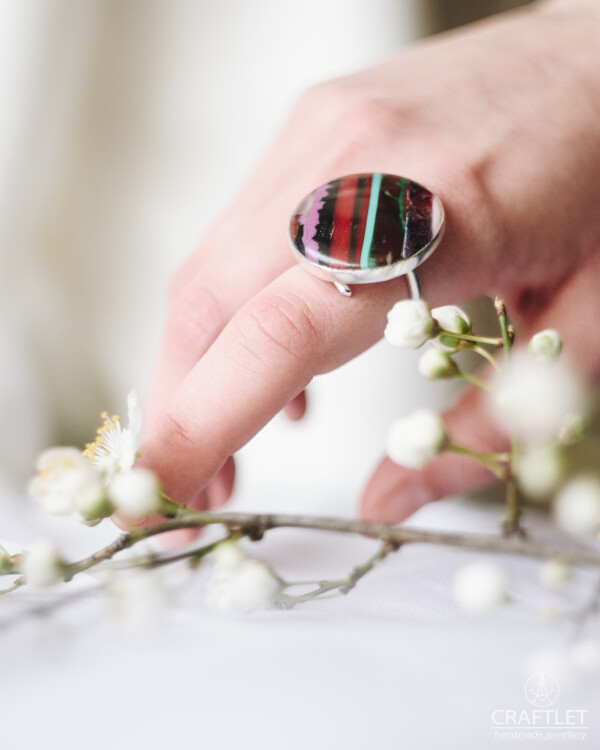 Sterling Silver Surfite Adjustable Handmade Ring
SKU 00001
Product Details
This classic circle shaped adjustable ring is given added interest thanks to the unusual material used in it.
It features such a cool cabochon of surfite, bezel set in 30mm diameter sterling silver bezel.
The cabochon has been hand picked, crafted and polished by us here in Ioannina.
Cabochons made from this material are highly valued and sought after. It is durable and unique and the colors in this ring are amazing.
Surf stone (also called Surfite) is a lapidary material that is the built up colored resins remaining from the process of creating custom surf boards.
The resin is applied to the surfboard in the final stages of sealing, and any run off resin drips onto a tray under the board. Over months the tray accumulates layers of clear and coloured resin that flow and settle in their own unique way.
Our surfite is a handmade stone made from the build up of bio based resin layers created in the process of sparkle earrings collection glazing.
Every time, we collect excess resin, and these hard glass slabs are then ready for making up into recycled Eco-friendly jewellery.
Each layer represents an earring that was made at one point and each rough slab takes several months to complete.
No two surfite jewellery pieces are alike, each piece has its own colours and patterns.
Please
keep in mind that colors may vary from photos or even
look different on different computer screens. As we create each color
from scratch, each piece is unique and we cannot guarantee you will
receive an item exactly identical to what is that shown online.
If you desire any custom design please do not hesitate to contact us.
Save this product for later